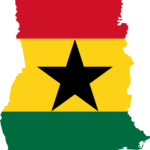 Official language: English
Capital: Accra
Area: 238,540 km² (92,100 square miles) 
Population: 29.6 million
Currency: New Ghana Cedi (GHS)
Time zone: UTC+/-0
GDP/inhabitant: approx. 1,780 US$ (2018)
Population growth: 2.24
Population density: 127 inhabitants/km²
The Republic of Ghana is located in West Africa and borders Côte d'Ivoire to the west, Burkina Faso to the north and Togo to the east. In the south, the country is bordered by the Atlantic Ocean.
Ghana covers 238,540 km² and has a population of about 29.6 million. Almost half of them live in the economic centres of Ashanti, Greater Accra and the Eastern Region.
The official language is English, but the languages of the numerous ethnic groups are also spoken. Ghana's principal ethnic groups are the Akan (Twi and Fante speaking), the Guans, Ewes, Dagombas, Gas, Gonjas, Dagabas, Walas and Frafras. There are 56 Ghanaian dialects of which Akwapim Twi, Asante Twi, Fante, Dangbe, Ewe, Kasem, Gonja, Dagare, Ga, Dagbani and Nzema are the major languages. The official language of the country is English. French and Hausa are two major foreign languages which are also spoken in Ghana.
The coastal region in the south, the eastern wet savannah with the Volta Reservoir and the mountain range with the 880 m high Mount Afadjato on the border with Togo characterise the diverse landscape with a tropical, hot and humid climate with an average temperature of 30°C. Most of the rainfall occurs in the summer. Most rainfall is usually recorded from May to October.
Ghana was the first country in Africa to gain independence from Great Britain in 1957 and has been considered democratically consolidated since 1992. With its multi-party system, independent judiciary and freedom of speech and press, the country is a model for the entire continent. The president is directly elected by the people for a four-year term. He is also the commander-in-chief of the armed forces and head of government, and the regional ministers of Ghana's ten regions are subordinate to him. Nana Addo Dankwa Akufo-Addo has been in office since January 2017.
Ghana is a country with many different climate zones. Depending on the location you will find different weather conditions and various plants and animals. This should be considered especially when looking for farmland. Not every crop grows in all areas.
But also if you are looking for land to build, you certainly have different preferences.
Let us provide you with advice in this regard.
We can advise you on all necessary steps in purchasing land in Ghana. We also assist you at possible appointments with chiefs or other relevant administrative departments.
In many areas of rural Ghana, land is owned by certain family lines, usually those of the first settlers of an area. The chiefs have administrative authority in land matters. In patrilineal communities, land is passed from father to son. In matrilineal groups, land is passed from maternal uncles to their nephews. Strangers (migrants or foreigners) gain access to land through the chief. While all indigenous families have a right to use land by virtue of their belonging to the stool or clan, strangers are not guaranteed land. Strangers are also expected to pay a token amount to the chief or other authority who allocates the land.
In southern Ghana, customary tenure is changing, including through increasing sharecropping and leases. Markets for land, housing and agriculture are expanding, and there is a trend towards individualisation of land rights. In the South, especially in urban areas, customary tenure is eroding, while in the North, customary tenure remains dominant.
While formalisation of land ownership is more widespread in urban areas, rates of land registration are very low across the country. In the outlying districts of Accra, about 80 % of land transactions take place informally.